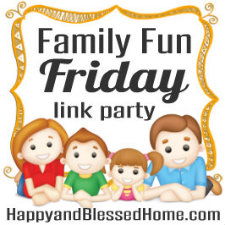 Welcome!  I'm so happy you stopped by to enjoy our Family Fun Friday linky party. Along with my co-hosts, I'll be featuring this link-up on my blog every week.
Every week we share the talents and top posts from our blogging friends all around the web with my co-hosts at Monica at HappyandBlessedHome.com, Herchel at GymCraftLaundry.com, and Adelien from Blessed Learners.com via our shared linky: Family Fun Friday.  We each review 200+ link-ups to select the top features that we love – so you have a chance to receive even greater exposure for your post.
Every week is different and is tailored to the trends that are current to help moms save time and energy so they can have more freedom to do what they love best – enjoy family fun!
[bctt tweet="The Family Fun Friday Team reviews 200+ link-ups to select the top features" username="adrianscrazylif"]
Please stop by your favorite entries and thank the bloggers who try to help readers by sharing their talents and tips. We're so thankful for this online community and hope you'll make new friends online! Giveaways, recipes, homeschooling, kid's activities and free printables, we've got you covered at Family Fun Friday.
I love my co-hosts!  Your links get lots of exposure as this party is promoted on several blogs at the same time. Woo-Hoo! 
It's considered polite to Follow your hostesses, so please pick at least one Social Media channel to Follow each co-host.  Each featured post will be pinned by the hostesses so be sure to link up your best!
Meet our Family Fun Friday hostesses:
Monica created Family Fun Friday and blogs at HappyandBlessedHome.com where she shares, easy recipes, free preschool tools and printables, encouraging words for moms, and ideas for having fun together as a family. Follow: Blog / Facebook /Pinterest / Twitter /Google +/Bloglovin'/Instagram. Monica will round-up all the Family Fun Friday posts.

Herchel enjoys blogging about parenting, organizing, crafting, and having good old-fashioned kid fun on her blog Gym, Craft, Laundry. Follow: Blog/Facebook/Pinterest / Twitter /Google +. Herchel will feature organizing and family fun.
---

Adelien Tan is a mother of three awesome boys and a wife of a great husband. English is her foreign language, but she tries to use it in blogging. You might visit her in Blessed Learners where she shares some thought, experience, and information about homeschooling, family, parenting, blogging, and personal growth.
She would be happy to have followers in Facebook/ Twitter/ Pinterest/ Google Plus
Adrian (that's me!) blogs at AdriansCrazyLife.com.  I blog about parenting teenagers, organizing, personal finance tips, and ideas on using Pinterest effectively. Facebook.com/ Pinterest/Twitter.com/ Instagram.com, and Bloglovin I will be featuring organizing and tips on saving money.
 If you would like to become a subscriber (there is a subscription button on my sidebar and at the top of my page), I have a special gift for you – my new Ebook 12 Tips to be INSANELY PRODUCTIVE.  
I'm also offering a free sample chapter of my Pinterest Makeover Ebook in this post – Is Your Pinterest Account a HOT MESS? It has a lot of helpful tips to help you navigate the new Pinterest changes.
Here are my Featured Bloggers for this week:
Looking Fabulous at Family Fun Friday:
http://www.mybigfathappylife.com/summer-2016-bucket-list/
http://www.savingssarah.com/2016/06/02/save-money-beach-vacation/
http://writtenreality.com/mom-guilt-this-summer/
http://happilyhowards.com/2016/06/road-trip-tips.html
http://thesunnypatch.ca/road-trips-with-kids/
http://yourvibrantfamily.com/mommy-child-dates-celebrate-school-year/
Here are Herchel's favorites at Keeping It Cool:

http://growingupgabel.com/gummy-worm-popsicles/
http://thekittchen.com/patriotic-berry-cheesecake-popsicles/
http://embellishmints.com/homemade-popsicles-layered-fruit-popsicles/
http://homecookingmemories.com/homemade-ice-cream-in-a-can-fun-for-kids/
http://www.logancan.com/2016/05/kid-friendly-frozen-pink-lemonade-recipe.html
http://www.pinkheelspinktruck.com/pineapple-upside-down-cake-cocktail/
Click NEXT to add your link to the linky party
(Visited 315 times, 1 visits today)
Pages: 1 2