When I do my gift shopping, there is one site that I head to consistently – Hot Topic!  I know most parenting bloggers are writing about their adorable babies and cute toddlers, but we passed that stage a LONG time ago.  
When you're buying for older teen and adult children, you've got to up your game a bit.  My boys always wanted items mostly in black, preferably an item with flames or with skulls and if I found something with flaming skulls, that was DEFINITELY a keeper!  No cute fuzzy kitties or bunnies around here!  
And I'm a Mama who is always searching for a good deal.  Honestly, if I DIDN'T get a good deal on their gift items, my kids would literally lose a little respect for me.  That's how I raised them.  To this day, they proudly bring their purchases home to show me the great deals they'd gotten on them.  They are totally proud of themselves and I'm proud of them too.
Disclaimer: This post may contain affiliate links and I will receive a small commission from any purchases you may make from these links. It's one of the ways I support my site.
That's why it's important to me to find the BEST discount codes I can find.  It's so annoying when you get to the checkout stage and that empty Promo Code box is staring you in the face!  Sometimes you can find a code on the site, but it isn't always the best deal available.  It might just be free shipping for a $50 purchase, but I'm only buying $25 worth of stuff.  Just like Hot Topic clothing, promo codes are not always one size fits all.  
Here's an item my youngest son might enjoy – a Jack Skellington varsity jacket.  In fact, he would be drooling over it.  There is a 20% off deal going right now, so it's already at a pretty good price, but I think we can do even better.  
Sometimes signing up for a site's newsletter will secure a juicy promo code.  They want to make a good impression on their new customer, after all.  However, I've already signed up for their newsletter so no help there.  However, there might be another option to get one of those – more about that later.  
My first stop is usually RetailMeNot.  There are 50 different codes available for Hot Topic, but none of them quite fit my parameters.  I did find one that got me a $3 discount, but I'm going to keep looking.  
Next stop is our old friend Google.  Out of the top results, Coupon Cabin looks like the best on of the top sites.
Coupon Cabin has 30 codes available, including a 30% off coupon.  I may want to keep that one hanging around in my browser, just in case, but I'm still looking for Mr. Right – Mr. Right Coupon, that is.  Then I click on the 30% off coupon, but it just takes me back to the site.  I HATE those ones because it usually doesn't apply to my specific items that I've already picked out.  It's just a way for Coupon Cabin to get credit for a portion of my transaction by setting a cookie on me.  
So, I'm running short on time here and I'm ready to finish up my transaction and get that cool jacket on it's way to my son.  So I head for Dealspotr.com to see if they've got any one-time codes available.  Remember I was saying I could get an extra-good code for signing up for that newsletter?  Well, a lot of Dealspotr users get codes like that and if they end up not using them, they can opt to share them with the Dealspotr community in exchange for extra points.  
So, I go to the Dealspotr.com site and login.  Then I click on the Stores Tab and find Hot Topic.  There are quite a selection of great coupons available, including a one-time use for for 30%!  I think we've found a winner!
Sure enough, the code is accepted and it gives me a whopping $17.97 discount on the jacket – SOLD!
That's why I signed up for Dealspotr.com because on any given day, there may be a wide variety of different codes on the site for each online store.  You could get a percentage off, a cash amount off, or a discount off a purchase amount.  This is a lot better than what is offered on many of the traditional coupon sites.
You know I am all about helping other bloggers, so I want to talk for a minute about their Influencer program.  By promoting Dealspotr.com on your site, you can earn affiliate income including lifetime percentages when people redeem codes through your site.  That's a sweet deal I haven't seen offered on any other sites.  
Here's mine – HINT, HINT!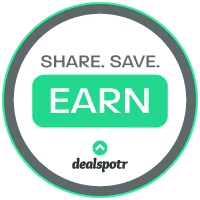 How to use Hot Topic promo codes

Go to hottopic.com then select the items you wish to purchase and add them to your shopping cart.
Find a promo code on the Dealspotr.com page for Hot Topic. This page will show you a whole bunch of different codes.  Then you can select the one you want to use, then click to open the code, then click "copy" to copy the coupon code to your clipboard.
Go back to hottopic.com and proceed to checkout. Look for the box labeled "Enter promo code" and paste your promo code in that box.
Once you apply the promo code, your savings should be applied,and you can complete checkout.  Voila!  Easy peesy, lemon squeezy!  
Getting Ready for the Holidays with Dealspotr.com
Especially with the holidays coming up soon, Dealspotr.com could be your secret weapon for getting the best deals on all of your holiday purchases.  Be sure and check out my post on managing your holiday spending.  I love to buy wonderful gifts for my friends and family (even the ones that want flaming skulls), but I'm all about planning ahead and shopping responsibility.  No one likes getting hit with those nasty huge bills in January.  I haven't had to deal with that problem for years and years!  
(Visited 245 times, 1 visits today)