I write for several different blogs and sometimes I work as a freelance writer on Fiverr.com as well.  So I do a LOT of writing in a week, and I'm not always too careful about my grammar and punctuation choices.  That's why it's been really helpful to have Grammarly enabled on my computer.  I've been using it for several months now and Grammarly regularly checks my work to be sure I am presenting my thoughts in some kind of a coherent way.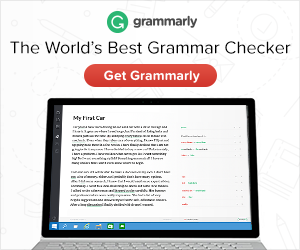 Disclosure – many of my posts contain affiliate links.  If purchases are made from my links, it helps me to keep this site operating, and I am careful to only endorse products that I feel are a good fit for my readers.
Free Version
Grammarly has both free and paid versions.  The free version will make some basic checks on your writing.  Works in Chrome, Safari, or Firefox or just on your desktop.  It notifies you when you've made a grammar or punctuation error – even in Tweets or Facebook comments.  It's like spell check on steroids (for instance, it told me that spell check was correct and spellcheck was not).  You have the option to learn from your mistakes and make more informed decisions with Grammarly Cards, which come included with the Editor.  It explains the grammar rules in clear, simple English, so you can make better choices in the future.
Paid Version
Naturally, the paid version offers much more.  For instance, you can check your work for plagiarism – a blessing for teachers everywhere.  Just for giggles, I had it check one of my blog posts.  It not only picked up the duplication from my site, it also picked up two sites where I'd forgotten I'd guest posted it.  You can also check more advanced grammar mistakes with the paid version.  The editor can also be adjusted for business, fiction, academic, and over 20 other styles of writing. You can be confident that you're writing correctly for your chosen format.  Prices start at just $29.95 a month.  You can get a discount if you purchase it quarterly or annually.
It's very easy to use and you always have full control.  It works just like spell check, but it shows you the suggested grammar correction.  Now if I could just figure out how to get it to work on my phone to fix what my iPhone thinks it is correcting…
I think as a writer, people have to trust you.  It's not easy to trust someone if they don't write well, or make obvious mistakes everywhere.  Frequently, I do my work very late at night when my brain is not all that sharp, so sometimes little errors do slip past.  But Grammarly helps me catch them, and keeps me looking good.  It's like adding a touch of lipstick to your blog – it just boosts the natural beauty of your words.
(Visited 115 times, 1 visits today)