Blogging can be a lot of work, but Grammarly is a great resource to make it just a little easier.  It can automate many common tasks for you, such as checking spelling and grammar.  It can even act as a plagiarism filter to determine if others are copying your material.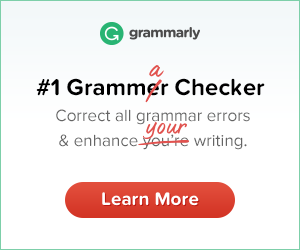 Disclosure – many of my posts contain affiliate links.  If purchases are made from my links, it helps me to keep this site operating. I am careful to only endorse products that I feel are a good fit for my readers.  
Honestly, I'm sitting here at the end of an 18 hour day.  I started with my day job at the bank, then I had a long Scout meeting.  Then when I got home, I had to check Email and finish a few orders for my Fiverr clients.  With a day like that, I just don't have time to do an extensive proofread and grammar check of every single word I type.  Grammarly is exactly what I need for my work.
It's also handy for students, business professionals, and anyone who just wants to write better.
Here's a quote directly from their site – "Essentially, Grammarly offers the same features as a thesaurus, a quality grammar checking program, and a plagiarism checker. While you can purchase each of these tools separately elsewhere, Grammarly combines them, which is actually quite nice." Brandi Cross, Freelance Writer
I love this graphic – they actually had a contest to determine which is the most annoying grammar error.  Evidently, it is the misuse of your and you're – ugh.  One of my little pet peeves also.
Give it a try and see if it helps you.
(Visited 170 times, 1 visits today)